Volume 35 ~*~ 15 January 2007
---
Nurses and tax advisors will tell you that birthing a child before year's end to get a tax break was once a running joke to lighten the mood with expectant clients near the holidays. But now, it's no joke.

Exploring the effect of home triage care in comparison with telephone support on the outcomes
and healthcare usage of healthy nulliparous women.

This week, the American College of Obstetricians and Gynecologists announces recommendations that every pregnant woman,
regardless of age, be offered a choice of tests for this common birth defect.
---

Women who deliver by caesarean section have been shown to be less likely to have a subsequent pregnancy. It is not clear whether this is due to a direct effect of the procedure on future fertility or due to deliberate avoidance of a future pregnancy.

The cause of autism has been pinned on everything from "emotionally remote" mothers (since discredited) to vaccines, genetics, immunological disorders, environmental toxins and maternal infections. Today most researchers theorize that autism is caused by a complex interplay of genetics and environmental triggers. A far simpler possibility worthy of investigation is the pervasive use of prenatal ultrasound, which can cause potentially dangerous thermal effects.

Women who have epidural analgesia during childbirth are significantly less likely to fully
breastfeed their infant in the few days after birth, and more likely to stop breastfeeding within
the first 24 weeks, new study findings suggest.
---

The Incredible Post of the Month from the ICAN yahoogroup comes to us from Elaine Mills, Chapter Leader, ICAN of Atlanta.
~*~*~*~*~*~
What is ICAN doing lately? This question was posted on the ICAN online support list recently. Since ICAN is first and foremost a grassroots organization offering emotional and educational support to moms recovering from cesareans or planning VBACs, the joys and the successes directly attributable to ICAN are often missed by those outside of individual chapters.
So, what is ICAN doing lately? In Atlanta, ICAN is making a huge impact.
We have recently built a relationship with a local obstetrician who takes on obstetric cases for which most women are cut. He believes in vaginal breech birth, and supports VBAC after any number of cesareans. In the past two months, due to ICAN's network of support, two women switched out of their old care at full term to successfully vaginally birth their breech babies with this birth-friendly doctor. Without ICAN, these women would have been cut.
A woman with 3 prior cesareans was successful in locating a care provider to support her in VBA3C after contacting ICAN, after her own search proved fruitless.
Through our own footwork and search, we were able to find an obstetrician who is willing to provide backup care for moms seeking to home birth. Now women in Atlanta who wish to home birth, yet want access to medical testing or emergency care if needed, will not have to face hostility in their transfer of care, thanks to ICAN.
Month after month, women in Atlanta are birthing their children via VBAC and giving thanks to ICAN for playing a major role in helping them achieve their goals.
---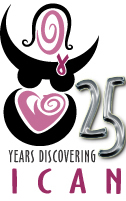 Between now and February 28, you can register for the low rate of only $199 to attend ICAN's Silver Anniversary Conference to be held April 20-22 in Syracuse, NY. The conference will bring together a wide range of birth professionals, birth advocates and consumers. And it's the first time ICAN has included an OB on the agenda.
Dr. Mark Landon, author of the first large-scale American prospective study on VBAC, will be there to confirm the relative safety of VBAC for most women. We're applying for CEUs from MEAC and ICEA. This is a terrific opportunity for birth professionals to hear the good news about VBAC while fulfilling professional educational requirements.
If you are a breast feeding advocate or lactation consultant, you'll want to come hear Diane Wiessinger's talk "What Would Mammals Do?"
If you are a birth activist, you'll want to hear Lynn Paltrow from NAPW answer the question "Do Pregnant Women Have Rights?" She was co-counsel representing Angela Carder's family in the famous 1987 suit against George Washington University Medical Center, winning a decision on appeal that held the hospital was wrong in obtaining a court order to perform a cesarean against the wishes of Carder (a cancer patient), her family and the obstetrical department.
Susun Weed, author of Wise Woman Herbal for the Childbearing Year, will discuss "After the Cesarean: Herbal Healing for Mother and Child."
The stellar list of speakers includes: Dr. Marsden Wagner, Henci Goer, Sharon Storton, Esther Booth Zorn, Nancy Wainer and many more. ICAN notables include Kmom, Gretchen Humphries, Raechel Fredrickson, Shannon Mitchell, Dawn Kubik and Elaine Mills.
Save money … register today!!! http://conference.ican-online.org/
---
Want to help ICAN in a big way? Consider participating on the Development Committee. The Development Committee needs a few individuals to help with research, writing and fundraising. Although previous grant experience, writing skills, organizational skills and researching skills are helpful, no experience is required. If you are motivated to help ICAN succeed, you can help. Contact developmentican-online.org">Dawn Kubik.
It's not too late to spread the "gift of ICAN". There are many ways to support ICAN, but to everyone who counts themselves as an ally of ICAN, we offer this challenge: We ask that each person get 3 people to donate what they can – whether it is $5 or $1,000. Let them know the donation is tax deductible and send the money to ICAN. Please put "gift of ICAN" in the memo section on your check so we know why you are donating. Our goal is to raise $10,000 through the "gift of ICAN" campaign. This money will go to support all of ICAN's initiatives which include a cesarean prevention class, working with the media, working with ally organizations, cesarean recovery packets, etc. The challenge ends January 31, 2007. Will you help us achieve our goal? Mail checks to:
ICAN, PO Box 453, Tarpon Springs, FL 34688
When you are searching, go to www.goodsearch.com and type in "International Cesarean Awareness Network" as the organization to support. ICAN's main address is Redondo Beach, which should pop up automatically (typing "ICAN" won't get it to come up). Each search gives .01 to ICAN. Doesn't sound like much, but the pennies add up!
---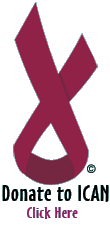 Props this month to: the two Marias for translation, Elaine for the speedy rewrite, Berna for the eagle eyes, and Jane Fruendt for making it all go.
Got something to say? Tell us! eNews
ican-online.org">eNews
ican-online.org
ICAN's mission is to improve maternal-child health by preventing unnecessary cesareans through education, providing support for cesarean recovery, and promoting Vaginal Birth After Cesarean (VBAC). This newsletter is for informational purposes only and does not replace the advice of a qualified birth professional.
ICAN respects the Internet and the privacy of those who use it. We do not rent or sell our e-mail list to anyone.
Copyright Notice: The content of ICAN eNews is copyrighted by The International Cesarean Awareness Network, Inc. and, occasionally, other rights holders. You may forward ICAN eNews by e-mail an unlimited number of times, provided you do not alter the content in any way and that you include all applicable notices and disclaimers. You may print a single copy of each issue of eNews for your own personal, non-commercial use only, provided you include all applicable notices and disclaimers. Any other use of the content is strictly prohibited without the prior written permission of The International Cesarean Awareness Network, Inc. and any other applicable rights holders. © 2006 The International Cesarean Awareness Network, Inc. All Rights Reserved.
You are subscribed as !email. !remove