Volume 35 ~*~ 28 February 2007
---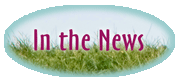 ---

Pregnancies in women following a pregnancy delivered by caesarean section are at an increased risk of stillbirth. In the study, the risk appears to be mainly concentrated in the subgroup of explained stillbirths. However, there are sufficient inconsistencies in the developing literature about stillbirth risk that further research is needed.

Early postpartum hemorrhage and composite maternal morbidity were decreased in cesarean delivery without labor compared with induction of labor. Hemorrhagic and traumatic morbidities with labor induction are increased after assisted vaginal delivery and cesarean delivery in labor compared with cesarean delivery without labor.

Planned cesarean delivery is not associated with a reduction in risk of death or neurodevelopmental delay in children at 2 years of age.
---

The Incredible Post of the Month from the ICAN yahoogroup comes to us from thebartons
sbcglobal.net">Becky. Becky sends us a sample email/letter we can use to encourage showings of the powerful film Pregnant in America: A Nation's Miscarriage at our local theaters.
I just emailed my local independent movie theater and asked them to show this movie when it becomes available. I offered to advertise through local moms groups, cesarean networks and midwives to generate a great attendance!
Let's see what happens!
Go to the company's website and click on Contact Us. I would send it to the highest person listed. It's also worth copying the Head Office if
applicable/possible. I've had better results that way - I recently
complained about inappropriate trailers shown before a PG movie, and through
the Head Office they agreed and pulled the trailers from that movie at all
of their movie theaters!
This is the email I sent to the Manager of the local Alamo Drafthouse.
"I know you do one-off specials showings. I think its a great idea and
we've been to many in Katy & West Oaks.

Is it possible to show this movie when it becomes available?

I can advertise through the local moms groups, cesarean networks and
midwifery groups to ensure we get great attendance!

Pregnant in America: A Nation's Miscarriage

"Pregnant in America examines the betrayal of humanity's greatest
gift--birth--by the greed of U.S. corporations. Hospitals, insurance
companies and other members of the healthcare industry have all pushed aside
the best care of our infants and mothers to play the power game of raking in
huge profits.

His wife pregnant, first-time filmmaker Steve Buonaugurio sets out to create
a film that will expose the underside of the U.S. childbirth industry and
help end its neglectful exploitation of pregnancy and birth.

Pregnant in America is the controversial story of life's greatest miracle in
the hands of a nation's most powerful interests."

Thank you for your consideration
---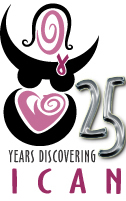 ICAN's 25th Anniversary Conference is just weeks away! Don't miss out! Register today for $299 with discounts available for Early Birds and Members.
Come here the good news about VBAC from Dr. Mark Landon, primary author of the first large-scale American prospective study on vaginal birth after cesarean (VBAC).
Award-winning authors Nancy Wainer, who wrote Silent Knife; Henci Goer, The Thinking Woman's Guide To A Better Birth; and Susun Weed, Wise Woman Herbal for the Childbearing Year, will join more than a dozen noted speakers for "25 Years of Discovering ICAN."
CEUs applied for from ICEA, DONA and MEAC!
---

When you are searching online, go to www.goodsearch.com and type in "International Cesarean Awareness Network" as the organization to support. ICAN's main address is Redondo Beach, which should pop up automatically (typing "ICAN" won't get it to come up). Each search gives .01 to ICAN. Doesn't sound like much, but the pennies add up!
Another great way to earn money for ICAN without any extra effort is to route your Amazon.com purchases through the icon on the ICAN website. Just click on the icon at the bottom of the Recommended Reading List page, and you're helping ICAN while you shop!
---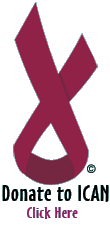 Props this month to: Those who research, those who send in submissions, and those who bring cups of tea.
Got something to say? Tell us! eNews
ican-online.org">eNews
ican-online.org
ICAN's mission is to improve maternal-child health by preventing unnecessary cesareans through education, providing support for cesarean recovery, and promoting Vaginal Birth After Cesarean (VBAC). This newsletter is for informational purposes only and does not replace the advice of a qualified birth professional.
ICAN respects the Internet and the privacy of those who use it. We do not rent or sell our e-mail list to anyone.
Copyright Notice: The content of ICAN eNews is copyrighted by The International Cesarean Awareness Network, Inc. and, occasionally, other rights holders. You may forward ICAN eNews by e-mail an unlimited number of times, provided you do not alter the content in any way and that you include all applicable notices and disclaimers. You may print a single copy of each issue of eNews for your own personal, non-commercial use only, provided you include all applicable notices and disclaimers. Any other use of the content is strictly prohibited without the prior written permission of The International Cesarean Awareness Network, Inc. and any other applicable rights holders. © 2006 The International Cesarean Awareness Network, Inc. All Rights Reserved.
You are subscribed as !email. !remove