born July 1, 2011 at Hellen Ellis Hospital, story told by Kylie
Our Little Vbac baby
Before I talk about the birth of Nola Jene, I should first mention the birth of my angel love Luca Grace. After all, her birth is why I was a Vbac patient. We were going to have her at the Breath of Life Birthing Center, in the water, with no drugs. It was going to be amazing and we were eagerly looking forward to the experience. This was our plan anyway up until 39 weeks. At my appointment we discovered Luca had turned. She was in a frank breech position and was going to have to be delivered c-section. I was crushed. I felt like my birthing experience had been taken from me. It took a long time to recover from the emotional distress the c-section caused me. I was determined to learn all that I could about Vbacs so that I wouldn't have the same birth with my next baby.
When we found out we were expecting again, we couldn't have been happier. Due to our previous c-section, we were limited on our birthing options but it didn't discourage us. We were determined to have the birthing experience I had wanted all along. With the help of Chris Hilderbrandt and ICAN we decided to go with Dr. Dinsmore in Trinity. It was a far drive from St. Pete but in the end it was all worth it. My due date was June 30th. On Monday June 27th I started losing my mucus plug. I couldn't believe the day I'd been waiting for could actually be around the corner. Tuesday we picked my mother up from the airport and headed to my dr.'s appointment. I was 95% effaced and a half centimeter dilated. That night we went walking. We were trying to get things started. I had no idea what to expect and was fascinated by the sensations that I was beginning to feel. This must be it. This went on all day Wednesday too. We kept busy, walking, cleaning and playing with Luca. My due date was finally here. My doula, Kasie Carlson suggested taking Luca out for her last days as an only child. My mom and I took her to the Florida Aquarium. I'm so glad we did. Luca had a great time and it kept my mind off not being in labor. We got home at around 4:00pm and Ed went to dinner with his parents. I decided to stay home. I really felt like this might be it and I didn't want to be at dinner when"it" started to happen. It's amazing how you just know.
My contractions were still mild and very inconsistent. By 8:00pm my water started to leak. I took a shower and gathered my things. I knew we'd have to be on our way to the hospital soon. I was feeling surprisingly relaxed and ready for the hard work ahead. When Ed got home, I filled him in on the news and he started gathering his things for the hospital too. We put Luca to bed, ate a quick meal and headed out the door with our yoga ball in hand.
We were beside ourselves with excitement. We'd been waiting for this experience since before Luca was born. I couldn't believe everything I prepared for was finally here. It brings tears to my eyes just writing it now. Helen Ellis Hospital was an hour away. So we spent the car ride talking and enjoying each others company. My water would gush and then I would experience a mild contraction. We called the doula and she was going to meet us at the hospital in the morning.
At Midnight the nurse checked me and I was 1 centimeter dilated. I was a little disappointed but not discouraged. I knew it could and would happen when it was supposed to. We tried to sleep but the excitement was unbearable. We were going to meet our baby soon. The next few events may not have gone exactly like this but at some point during the early morning Dr. Dinsmore checked me and I was 3 centimeters dilated. This was great news. I was progressing all on my own. By the time the sun came up, Ed and I still hadn't slept. This was going to be a long day. Kasie came bright and early with bagels and coffee. My contractions were still mild and not consistent. I was between 3 and 4 centimeters. Dr. Dinsmore decided to give me a tiny bit of pitocin. Normally I would be against the idea but after talking it through with Kasie we decided it would help things along. I'm glad we did because deep down inside I knew that I was on a clock because my water broke the night before.
I was 4 centimeters dilated and I felt pretty great actually. We spent the better part of the day talking, laughing, and surprisingly eating between my contractions. Although I was on constant monitoring, I was able to move around quite comfortably. I was determined to move that baby down. Soon my contractions were getting stronger and closer together. I found myself concentrating more during each contraction. I focused on breathing through each sensation. I was amazed at how calm and at ease I still felt. This continued till about 9:00pm. By this time, I was so tired and the contractions were very intense. The sensation of each contraction took my breath away to say the least. I didn't give up though. I was determined to do it naturally. Kasie and Ed supported me through each contraction.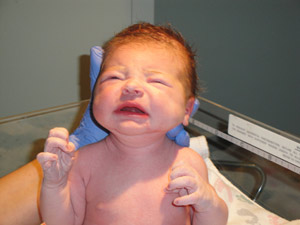 For whatever reason I was a little nervous about the pushing phase. I was exhausted and couldn't imagine that pushing could feel better than this. Kasie reassured me that it would be ok and just what my body needed to do. Soon my contractions slowed slightly and I was able to fall asleep between them. It was just the break I needed. Shortly after that, I felt an amazing release. I wanted to push. I had to push. I went deep within myself and gathered all the strength I had left. I focused and productively moved my baby down. With each contraction we were getting closer and closer to meeting Nola. After an hour of pushing. She was finally here. Nola Jene was born at 10:46pm and placed directly on my chest. I was so tired I needed help holding her. She stared at me and I stared back. It was love at first sight. It truly was the most amazingly, satisfying experience our family could have had and we give thanks to all that made our vbac possible.