In honor of Cesarean Awareness Month, we will be giving away a pair of cesarean recovery panties to one lucky winner per week! This pair, valued at $69.99, is generously donated by Upspring Baby.
To enter, all you have to do is answer our weekly trivia question! Our first winner will be announced on Monday, April 27th! Enter today for yourself or for a friend!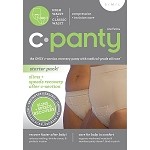 Product Details:
C-Section? Feel better faster with C-Panty.
C-Panty C-Section Recovery and Slimming Underwear is your complete c-section recovery solution. C-Panty helps speed recovery with its medical-grade compression to slim and support the post baby belly while the interior silicone panel helps reduce scarring. The compression supports weakened muscles and makes moving around more comfortable. The silicone panel over the incision area hydrates the c-section scar to speed healing, reduce redness, itching and burning.
The only panty designed to speed recovery after a Cesarean section, while slimming post-pregnancy tummies!
This full-coverage C-Panty reduces swelling and scarring around the incision, while providing the abdominal support of a belly wrap. What's unique: a silicone compression panel placed over the incision site. Silicone helps skin retain moisture, which minimizes scarring and itching, while compression helps prevent swelling and supports weakened muscles. The gentle waistband rests right below the ribs, eliminating the discomfort of binding waistbands at your mid-section. Silicone is frequently used in post-surgical and burn rehab because it helps the skin retain surface moisture, which aids in scar management. C-Panty's engineered compression slims your post-baby belly, shrinks your uterus and flattens the c-section bulge. A smart alternative to Granny panties, which don't promote healing and don't make you feel or look better! Best for post-op and ongoing C-section recovery, from delivery to one year. C-Panty is seamless, with a full rear and gently fluted waistband. No bulk, bands, or Velcro.
Slims and speeds recovery after c-section
Abdominal compression slims post baby belly, reduces swelling and shrinks uterus
Compression around incision reduces pain and makes moving around more comfortable
Silicone panel speeds healing and reduces c-section scar
Protects and supports delicate c-section incision area
Can be worn any time after delivery up to 12 months
Designed by a surgeon and two-time C-section mom
OB/GYN recommended
92% Nylon, 8% Spandex. Machine washable as delicate, line dry.
Let C-Panty take care of you so you can care for baby in comfort.