Garner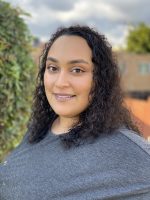 Address:
Garner, North Carolina 27529
Briana Smith is an IBFA Certified Birth Doula, Postpartum Doula, Childbirth Educator, Breastfeeding Peer Counselor, and an IPPA Certified Placenta Encapsulation Specialist. Her advanced training and certifications include When Survivors Give Birth, Rebozo Use in Labor, Postpartum Belly Binding Professional, Eco-Baby Educator, Systemic Racism & Implicit Bias in Perinatal Health, and Pregnancy & Infant Loss Awareness Advocate.

Briana received her BS in Public Health from the University of North Carolina at Greensboro, where her passion for maternal and reproductive health sparked. She has experience with couples, single parents, advanced maternal age, VBAC/VBA2C, sexual trauma and assault survivors, high and low risk births, and families who have experienced or are expecting a loss. Briana is passionate about providing evidence based, unbiased education and helping her clients to make their own informed decisions, by arming them with the information they need. She knows that a fulfilling birth experience often leads to a more enjoyable transition into parenthood for all parties.

Briana's open communication style paired with her empathic, compassionate personality allow her to be the best advocate and support for families before, during, and after birth. Briana currently lives in Eastern Wake County (though she'll always be a northerner at heart!) She absolutely loves the beach (her dream is to own a boat one day), but also loves snuggling up in a blanket with hot chocolate in a log cabin in the winter time (ah, there's her New Englander side!) Since COVID19, she has also started a new hobby: soap and wax-melt crafting!