The following is a list of area care providers who may be supportive of VBACs.
DISCLAIMER: these are NOT recommendations or endorsements from ICAN of Tampa Bay but rather a list to serve as a resource for women.  These care providers' names have been provided to us by women in the community who have reported to have support; an indiviual's experience with a particular group or provider may vary. It's important to interview several care providers to find the right fit for you and remember to bring your list of questions.
Also, consider the number of VBACs done at the location you choose: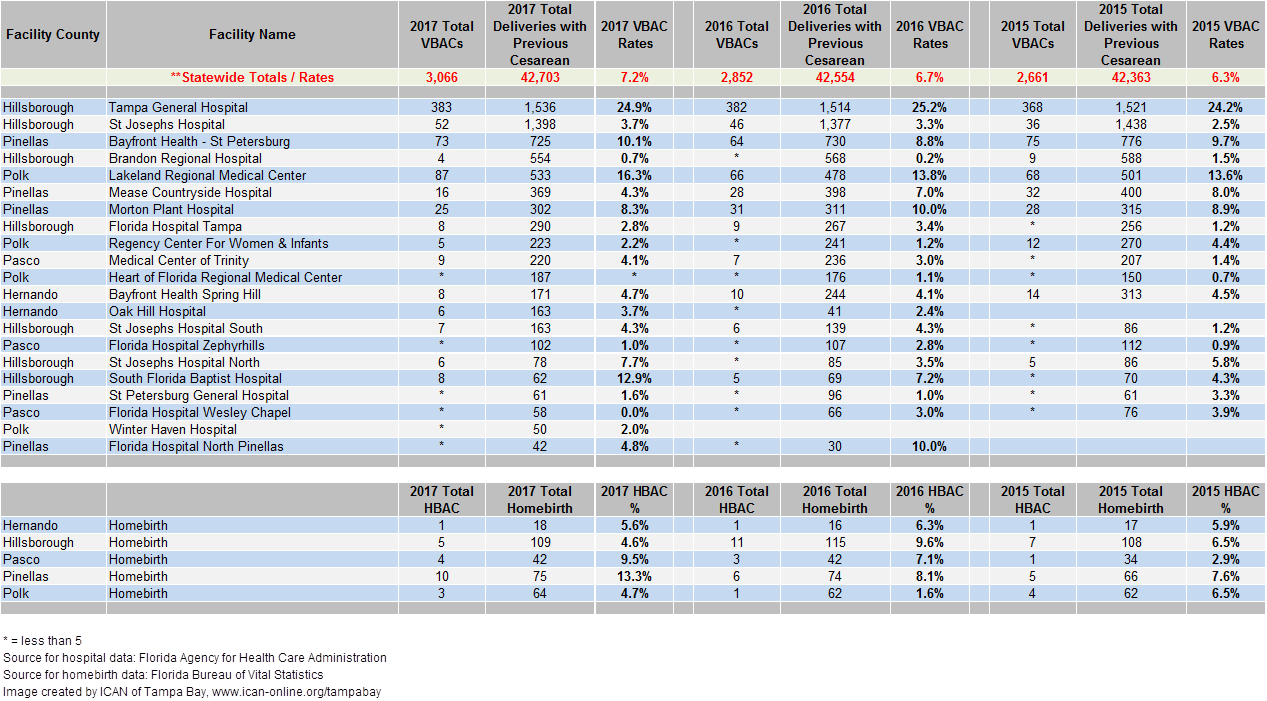 For a list of Cesarean rates for Tampa Bay hospitals, look here.
This information does change, if you know of a care provider not on the list, please contact us. If you find this list is not accurate, please let us know that as well.
Out-of-Hospital Providers:
(listed alphabetically)
Barefoot Birth
Charlie Rae Young, LM, CPM
(813) 944-9120
Breath of Life*
(*Prenatal care in birth center, delivery at Morton Plant hospital)
1900 East Bay Drive
Largo, FL 33771
(727) 216-1420
Childbirth Options, LLC.
Sizzly M Auer, LM, CPM
(813) 381-6430
Holistic Maternity
Katrina Hollon, LM, CPM
727-565-8798
Labor of Love Birth Center
(Homebirth only, no primary VBACs)
106 Myrtle Ridge Road
Lutz, FL 33549
(813) 949-1185
Lakeland Midwifery Care
(863) 660-0048
Precious Blessings Midwife Care
Rebecca Finklea, CPM, LM
(813) 451-4093
Wonderfully Made Midwifery Care
Katie Miller, CPM, LM
813-506-1823
Hospital Providers:
(listed alphabetically)
Absolute Health & Wellness
Dr. Gilby & Dr. Miller
1600 Dr. Martin Luther King Jr. Street North
St. Petersburg, FL 33704
-and-
3055 5th Avenue North, Suite A
St. Petersburg, FL 33713
727-323-3838
Associates in Birth & Gynecology
Dr. James Gallagher
3890 Tampa Rd # 401, Palm Harbor, FL 34684
(727) 786-8678
Central Florida Health Care
(866) 234-8534
Locations in Lakeland, Winter Haven, Dundee, Frostproof, Lake Wales, Wauchula, and Hardee                             
Department of Obstetrics & Gynecology USF Health
(813) 259-8500
Florida Women's Care
Dr. Tom Umstead
1812 Health Care Drive
New Port Richey, FL 34655
(727) 376-2229
New Beginnings OB/GYN
Dr. Biss & Dr. Guichard
625 6th Avenue South, Suite 350
St. Petersburg, FL 33701
727-456-0080
St. Petersburg Obstetrics and Gynecology
Dr. Long, Dr. Diner, Dr. Tijerino, Dr. Taneja
603 7th Street South, Suite 300
St. Petersburg, FL  33701
-and-
3268 66th Street North
St. Petersburg, FL  33710
727-954-7121
Watson Clinic
(863) 680-7000
Bella Vista Building
1755 N. Florida Ave.
Lakeland, FL 33805
–and–
Lakeland Highlands Office
2140 E. County Rd. 540A
Lakeland, FL 33813
Women's Care Florida Lakeland OB/GYN
Main Office
1733 Lakeland Hills Blvd.
Lakeland, FL 33805
(863) 688-1528
–and–
South Office
619 Midflorida Drive, Suite 3
Lakeland, FL 33813
(863) 644-4496
Women's Care Florida Partners in OB/GYN
North Tampa Office- 727 W Fletcher Ave. Tampa, FL 33612.  (813) 908-2229
South Tampa Office- 2818 W Virginia Ave. Tampa, FL 33607. (813) 872-8551
Women's Health Care
5 Tampa General Circle #240
Tampa, FL 33606
(813) 258-3309
Check out our provider survey results here
Questions to Ask
Below are some suggestions or ideas of questions you might ask when talking to a care provider about planning a VBAC:
Of the last 10 women that have come to you originally wanting VBAC, how many were able to have their VBAC? (kind of asking their VBAC success rate, but this number should represent better, as it will be lower if they tend to talk women out of it during their pregnancy)
What do you think would prevent me from having a VBAC?
What do you believe are my chances for having a VBAC?
I have now read more information regarding my previous c-section, and I'm curious to know what your practice would do in the same situation to help me avoid a c-section, either prenatally or during labor?
What is your normal protocol for a VBAC mom reaching 41 weeks? 42 weeks?
If I hit 42 weeks (or whatever gestation you recommend me to deliver by), would you consider induction, or just schedule a c-section? If induction, what are my options (ROM, pitocin – how much, etc.)?
What circumstances, later in my pregnancy would contraindicate a VBAC and make you recommend a RCS?
If I do go past my due date, what tests would you suggest? (BPP, US, NST), when would you suggest l they begin, and how often would you recommend I need them?
Will you recommend an ultrasound to estimate weight late in pregnancy?
How do you feel about VBACers birthing "big" babies? What do you think is "big"?
When in labor, what stipulations do you have for VBACing moms? For example, do you require continuous monitoring? Do you have a time limit for progression in labor (ie, I need to dilate 1cm each hour)? Do you recommend your VBACing moms to have an epidural?