These are a group of local professionals who support ICAN of Syracuse and our mission. We are ever so grateful for their ongoing support.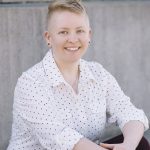 Dr. Kristin Kukenberger, DC
Dr. Kristin Kukenberger is a Webster Certified Chiropractor in Fayetteville, NY with a special interest in perinatal and newborn care. Originally from New Jersey, Dr. Kristin became a Fayetteville resident after graduating from New York Chiropractic College (NYCC) in Seneca Falls, NY in 2016. During her time at NYCC, she completed both a Master of Science in Applied Clinical Nutrition and a Doctorate in Chiropractic simultaneously. Upon graduation, she worked in an assistant teaching position at NYCC, and as an adjunct professor at Le Moyne College while founding a solo practice, Kukenberger Chiropractic. With a special interest in the birthing population, Dr. Kristin primarily completes continuing education courses related to prenatal and postpartum care and newborns, including training in Spinning Babies techniques.
After hearing birth stories leading to C-sections for a variety of reasons from patients, Dr. Kristin looked for ways to offer additional support. With a well established prenatal referral network in the office, this type of support was lacking in the references.Through recommendations of local birth workers, Dr. Kristin decided to join ICAN as a professional member after recognizing the ways in which Chiropractic care can support the ICAN mission to improve maternal health through education and physical care that can help prevent unnecessary C-sections, support a birthing person to succeed in VBACs, and participate in the physical Cesarean recovery.
Chiropractic care during pregnancy involves gentle assessment and specific adjustments to the body with a focus on pelvic balance. Special pillows are used to allow the pregnant person to lie face down on the table comfortably with no pressure to the abdomen. The Webster Technique is used to provide balance to the muscles, ligaments, and joints of the pelvis allowing for optimal fetal positioning, fewer aches and pains, improved birth outcomes, and shorter labor times. Spinning Babies protocols are used in addition to Chiropractic care to offer stretches that are specific to the baby's current position to encourage optimal positioning for birth in a timely manner, often avoiding uncomfortable turning procedures and unnecessary Cesareans. Postpartum care manages pelvic recovery after birth, vaginal or surgical, muscle strains associated with feeding and caring for your new baby and returning to work, and restoring proper posture and biomechanics to the body. General wellness care is also available to improve posture, manage biomechanical stress on the body from repetitive activities and support your overall health wellness. Chiropractic care is often described as "well care" for its ability to offer the prevention of body injury by managing physical stress upfront.